**Written by Doug Powers
White House Spokesman Jay Carney today didn't stray from Joe Biden's side over his latest round of fear mongering.
Transcript from Real Clear Politics:
"I think it would be hard to find anyone that doesn't agree," White House press secretary Carney said about Joe Biden's remark that rapes will increase if Congress does not pass Obama's latest stimulus bill.

Carney was asked about Vice President Joe Biden saying rapes and murders will rise if the president's jobs bill is not passed.

"I think everyone will agree with the equation that fewer police officers on the street has a direct effect on the crime rate. We saw this in the 1990's. I do know that any lawmaker up on Capitol Hill will contest that simple fact or any American who makes that assessment in their local communities. Would you want fewer or more law enforcement officers on the job? Do you think that having more officers on the job would have a positive impact on crime? That is the point that the President absolutely shares," Carney said.
Maybe at some point a reporter will ask Carney why there are fewer police on the streets today and they're seeking billions more when the sales pitch for the original stimulus was that billions of those dollars would put more cops on the job.
Biden's gotten so unhinged that the RNC is using him in an ad, so it's probably good that President Obama isn't reeling him back in. Plus, it's entertaining for the rest of us.
Click the pic to roll tape: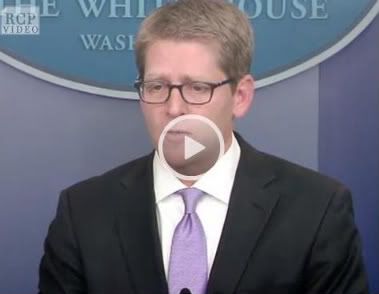 *****
**Written by Doug Powers
Twitter @ThePowersThatBe
December 28, 2017 05:07 PM by Doug Powers

Categories: Barack Obama, Donald Trump, Media, Media Bias